PHOTORAMA is conducting a survey among stakeholders across Europe on awareness about current technologies and practices in PV panel recycling, as well as drivers and barriers of advancing PV panel recycling in the EU. So far over 250 stakeholders have participated in the survey. Here we relay our initial results.
In case you're involved with renewable energies and we don't have your insights yet, you can still participate in the survey. It takes just a couple of minutes.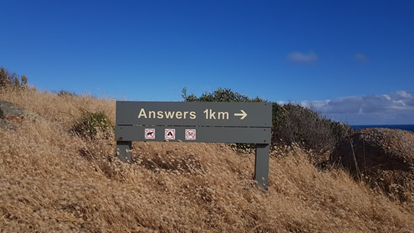 Solar-power has been cemented as a viable source of renewable energy in the EU[1], and is expected to grow enormously in the coming decades. Yet, as PV panels have an average lifetime of 25 years and contain many critical and precious metals, how to manage PV panels at End-of-Life (EoL) is an increasingly pertinent issue: PV waste in Europe is projected to be about 10 Million Tons by 2050 and at about 60 to 78 million tons worldwide over this 30-year duration.[2]
PHOTORAMA's main objective is to increase the circularity of PV panels. Beyond developing advanced technologies to recycle PV panels, we want to gauge stakeholder perspectives of PV Panel technology for incorporation throughout the project. Thus, we conducted a stakeholder survey to capture the insights of experts in energy n PV Panel recycling as well as assess the level of awareness on current modes and technical aspects of PV Panel recycling across countries and sectors in the EU. The target audience of the survey is key stakeholders from research, energy utilities, manufacturers, recyclers, energy agencies, NGOs and cooperatives as well as from governmental institutions working in the solar and renewable energy space.
---
Here's what we found so far
Stakeholders across Europe and sectors have diverse range of views about the fate of PV Panels at EoL in the EU, with many thinking the majority are either land-filled, down cycled, or fully recycled – while a quarter of respondents answered that the practices vary from country to country and a third answered partly recycled.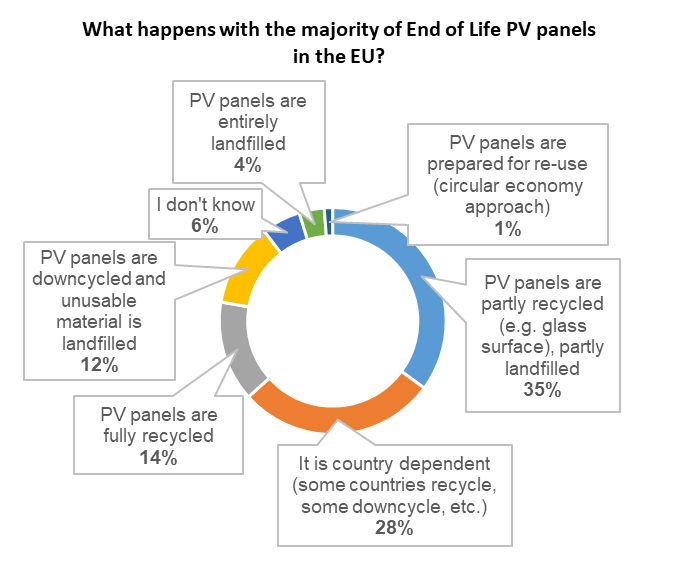 When it comes to the current share of EoL PV panels that are fully recycled in the EU, stakeholders had quite divergent views: their estimations tended to be polarized towards very low (<30%) or very high (>70%) shares – and were unrelated to country and sector.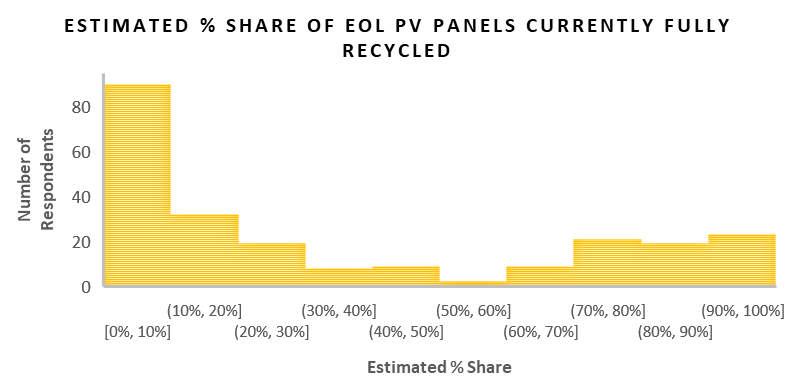 At the moment, there is no easy answer on what happens to a majority of EoL PV Panels and the share of PV panels fully recycled (recovery of materials and reuse in new products) in Europe. Presently, it is country dependent – varying from very high recycling ratio in France (~95%) to much lower shares in other EU countries.
---
Another key factor for building up the circularity of PV Panels is ensuring that the recycling process produces a significant yield of high quality / high purity material to reuse. The current recycling technologies that are implemented at industrial scale do not allow for such high recovery ratio of critical and valuable materials. As it stands, just 24% of stakeholders think the amount of critical and valuable metals that can be recovered from PV panels with current recycling technology is at least 80%, while most think the ratio is much lower.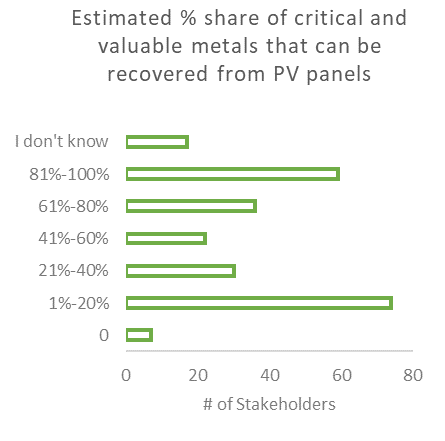 There is also a difference in awareness of what is possible to recover from EoL PV panels, namely which critical and valuable metals and to what degree they can be recovered. According to PHOTORAMA expertise Indium, Gallium, Silicon, Silver, Copper, Aluminum, Cadmium and Tellurium[3], are the most common critical or valuable metals that could be recovered to some degree from PV Panels. While Silver, Copper, Aluminum and Silicon are relatively well known among respondents, Indium, Gallium, Cadmium, and Tellurium were mentioned by only a few respondents, which may be due to the lower market of the thin films PV panels.
---
All in all, there is a need for building awareness and strengthening communication and collaboration among countries and stakeholder groups on modern PV panel recycling practices and technologies. Moreover, these answers highlight the importance of the recycling technology being developed in the framework of PHOTORAMA. In addition to increasing the overall efficiency panel recycling (think, fully recycled), a share of 90-98% of high purity critical and valuable metals are estimated to be recovered from PV panels with PHOTORAMA technology.
A more detailed analysis of the stakeholder survey will be made available later in the year. It will also investigate the main barriers and drivers to instituting PV Panel recycling in the EU. For more information on the upcoming survey analysis or on the PHOTORAMA project more generally, you can follow us here on the website and on social media.
[1] https://energy.ec.europa.eu/topics/renewable-energy/solar-power_en
[2] Wade, Andreas; Heath, Garvin; Weckend, Stephanie; Wambach, Karsten; Sinha, Parikhit; Jia, Zhang; Komoto, Keiichi & Sander, Knut. (2016). IRENA and IEA PVPS (2016) – End-of-Life Management: Solar Photovoltaic Panels.
[3] Indium, Galium, and Silicon are listed as critical metals by the European Commission. Other valuable metals are Silver (also a precious metals), Copper, Aluminum, Cadmium and Tellurium.
---