The PHOTORAMA consortium is made up of a team of several organizations, all bringing their specific expertise to the project. We have asked two of our partners, CEA and SINTEF to describe the work that they do together to fast-forward the PHOTORAMA project. To represent the team we have Karen Osen, Ana Maria Martinez, GØril Jahrsengene (SINTEF) and Charly Lemoine (CEA) talking us through their tasks.
Hello everyone, thanks a lot for taking the time to chat with us today. Can you shortly introduce your organization, your team and explain its role in PHOTORAMA?
Ana Maria: SINTEF is a contract-based research organization, non-profit, working in many different areas; chemistry, nano-technologies, etc. In PHOTORAMA, we are recovering critical metals that are included in the Photovoltaic (PV) panels. Together with CEA, we are developing an innovative recovery method to extract the silicon and silver from PV waste. Today, it is the three of us, GØril, Karen and I answer the questions but we are many more working at SINTEF on recycling.

Charly: I'm part of the same work package (work package 3) as SINTEF and I work for CEA in France. CEA is a large research organisation that has historically been linked with atomic energy research, but has been working for already 20 years on alternative energies. We have a branch focusing on the recycling of renewable energy infrastructures and that's why we are participating in the project. At CEA, we are three working on the project, me and my two supervisors.
SINTEF is based in Norway, and CEA in France, how does that work?
Charly: It is true that we cannot see each other very often but we actually communicate a lot and exchange via video-calls, emails etc.

Ana Maria: We're not doing exactly the same tasks, but the tasks are very dependent on each other. The technology for recovering the metal consists of two technological developments. One is done by CEA and the other is ours. Both are interconnected, so we have to work together.
Can you explain what you are doing respectively in PHOTORAMA?

Charly: To explain how we work together; we first have to talk about our PHOTORAMA project partner LuxChemtech company from Germany. LuxChemtech sends us the output from their PV panel delamination treatment, where the aluminium has been removed. When I receive the samples my goal is to extract all the silver that is present at the surface of the cells, from the metallic solid form to ionic form: it is called leaching. I then create a solution that contains the silver ions, while silicon remains as residue. The leaching parameters and the content of silver are optimised so it is suitable for the process at SINTEF. This silver solution is then sent to SINTEF.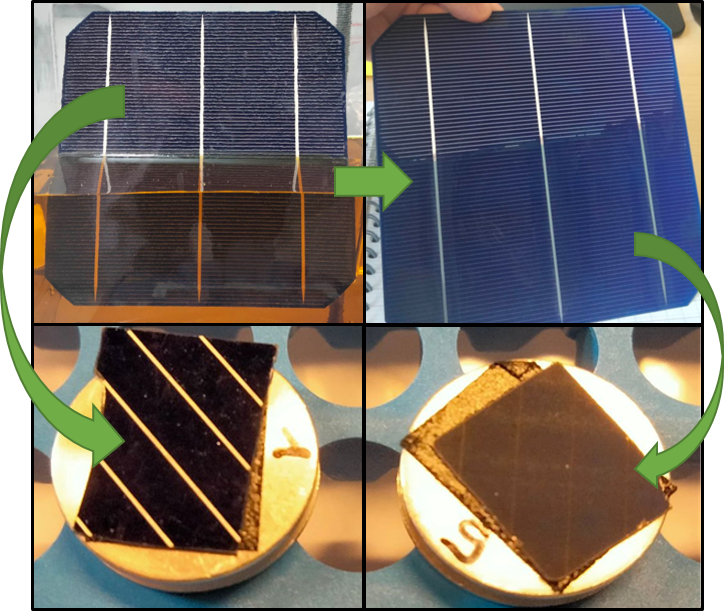 Karen: Once we get the solution we use electrotwinning, to extract the silver as metal.
Ana Maria: At the moment we are really tailoring and optimizing both processes to work together towards the goal of building up a pilot that is producing 1 kilo of silver metal per day. We do very different but complementary activities. We have to talk together so that Charly can make the best solution for our process and if we can maybe tailor some of our process to his. It goes both ways. If things are not working, then we talk and adjust. So we have been working together to try to make the research happen. Charly: As always in science, it is a matter of compromise.

What are the challenges that you have encountered in these tasks so far?
Ana Maria: For example, the concentration was an issue at the beginning and we spent quite some time to figure out a solution. Besides, there were some undesired impurities found in the silver solution. One of the biggest challenges is that we are not just a stand-alone process, we depend on the previous processes that are in the PHOTORAMA value chain. We cannot treat metallic fractions that contain certain impurities and those have to be eliminated in a previous process.

What does your specific expertise add to the consortium?

Ana Maria: Well, for SINTEF, we are experts in electrolysis technology. We work a lot with industries in Norway and also all over the world on electrolytic processes for producing metals, we have a lot of experience using similar processes than the one we are using in PHOTORAMA. Yet, the process that we developed for PHOTORAMA is unique and was created for the project.
GØril: SINTEF is really expert in electrolysis. What is electrolysis? Well, you need to extract the metal from a solution, it's like putting salt in water. By applying a current, you can reduce the metal ions and produce metal. That's what we do.
Charly: At CEA our expertise lies in the development and the utilization of a new type of solvents and of liquids that can be applied to recycling processes.

Why, according to you, do we need a project like PHOTORAMA from your perspective?

Ana-Maria: With PHOTORAMA we really want to scale-up processes that we knew were working in the lab. The PHOTORAMA Pilot is quite ambitious, it's an innovation action project with technology readiness level 7!
Charly: Yes, it is in the logic of what type of new energy we are adopting and the volume of waste from PV that will accumulate in the next years. With PHOTORAMA we do our best to valorise this waste, we cannot just trash it into the bin. The global demand for silver is in constant increase because of the uptake of PV panels worldwide. Recycling is another way to source the silver that we need for the energy transition. In addition, in PHOTORAMA, all the chemicals we use in the process are recyclable and we are using non-toxic solvents. There is already technical knowledge of how to recover silver from PV cells, but implying large quantities of acids. We are using green solvents and recycled liquids. PHOTORAMA makes PV recycling more sustainable.

What would you like to achieve at your scale by the end of the project?

Ana Maria: We want to build up a prototype at LuxChemtech, which is able to produce 1 kilo of silver metal per day. So every time we put something in our small 25-milliliter cell we have to think about the prototype that we are going to build. This is exciting and we have to reach it, and I believe we will.

Thank you all for this overview and your work at PHOTORAMA!